When choosing the right DJ mixer, there is a lot to think about. From functional, stripped-down portable mixers, to busier, visual consoles with BPM counters, onboard effects and enough knobs to operate a small car, picking the right mixer to suit your needs requires careful consideration. For this reason, we've selected a range of five DJ mixers available today. From budget to high-end and with respect for a range of mixing approaches, including Traktor and Serato integration, there's something here for everyone.
A short note before counting down. Beyond budget and individual DJing style, one important factor to keep in mind when shopping for a mixer is the number of channels you require. All mixers have at least two channels (one for each sound source) with dedicated strips to control individual track level and EQ. While you'll only need two channels to get started, as your skills improve, you may want to up the ante with a third turntable or live performance tools like samplers and drum machines. Investing in a four channel mixer, even if you only use two channels to start with, is worthwhile for serious beginners.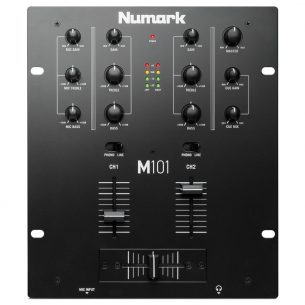 NUMARK M101 DJ MIXER
Price: £89.00
Numark M101 DJ Mixer is a highly adaptable two-channel mixer for DJs. M101 lets mobile DJs get up and running quickly regardless of what gear you bring to the gig. Whether for weddings, parties, clubs and everything in-between, the M101 is a perfect mixer for beginners and seasoned DJs alike who want a durable two-channel solution.
Beyond simply mixing, Numark M101 DJ Mixer has a built-in EQ so that you can fine tune your mix depending on the room or the tracks themselves. Two pairs of switchable Phono/Line inputs are included along with a crossfader, ¼" mic input and stereo RCA line output for connection to an amplifier, powered speakers or another mixer. M101 can be rack-mounted and features Numark's legendary industrial-grade durability.
If you're a DJ on the move and need solid, dependable two-channel performance, look no further than the M101 mixer. If you use a computer at your gigs, be sure to check out the M101USB which has all the same great features of M101 and includes USB audio.
FEATURES
Two channel rack mountable DJ mixer
Two pairs of Phono/Line inputs
Built-in two-band EQ for quick, easy sound tweaks
1/4-inch Mic input for voiceovers and announcements
Stereo Line Out (RCA) for easy connection to amps or powered speakers

PIONEER DJM-250 MK2 2-CHANNEL DJ MIXER
Price: £299
The Pioneer DJM-250 MK2 2-Channel DJ Mixer has inherited some of the professional features of the popular DJM-900NXS2, such as the Magvel crossfader and Sound Color FX filter. Straightforward controls, a clear layout, and dedicated 3-band isolators let you scratch and mix instinctively.
The dithering technology on this mixer results in warm, high-quality audio from both analogue and digital sources. Plus its built-in sound card lets you connect the mixer to your PC/Mac and use rekordbox dj to perform with CDJs. Or hook up the DJM-250MK2 to turntables and use rekordbox dvs in combination with our control vinyl to scratch and mix with digital files stored on your computer.
CLEAR LAYOUT & MAGVEL FADERS
The clear layout of the DJM-250MK2's lower half gives you freedom to perform complicated scratch techniques. Our robust Magvel Faders ensure smooth control over long-term use. 2 metal shafts support the fader knobs, while the contact-free magnetic system is designed to endure millions of movements.
SMOOTH MIXING
Precise, fluid mixes are a breeze using the mixer's channel faders, and the 3-band isolators give precision across the highs, mids and lows. You can use them to totally eliminate each frequency range when you turn the knob all the way to the left.
FLAGSHIP FILTER FX
Each channel comes with its own dedicated Sound Colour FX filter, a feature inherited from the DJM-900NXS2 mixer. Simply turn the knob on each channel to apply the filter, Twist the parameter knob for texture, playing with resonance and tension.
BUILT IN USB SOUND CARD
Connect the DJM-250MK2 to your PC/Mac using a single USB cable. The USB connection supports sound input and output, so you can record your mixes to your computer's hard drive.
REKORDBOX DJ BUNDLED
You get a free rekordbox dj licence key bundled with this mixer. Simply activate your licence key for our DJ software, connect to your computer via USB, and start DJing.
REKORDBOX DVS BUNDLED
You also get a free licence key for rekordbox dvs included in the box for low-latency scratching with CDJs and XDJs. Or play and scratch with tracks from your rekordbox library using analogue turntables and the Control Vinyl (sold separately).
FEATURES
2-Channel DJ Mixer with built-in USB soundcard
Mixer's dithering technology ensures optimal audio quality
Record mixes directly to your PC
Complete with rekordbox DVS & DJ software
Dedicated Sound Colour FX Filter on each channel
Parameter knob allows you to change texture, resonance and tension
Premium-quality Magvel faders and crossfader
2 metal shats support fader knobs
3-band isolators on each frequency band
Two headphone outputs (1/4 inch and 3.5mm)
Independent microphone section, allows you to use mic and AUX input at same time

NUMARK SCRATCH 24-BIT 2-CHANNEL SCRATCH MIXER
Price: £419
The Numark Scratch 24-Bit 2-Channel Scratch Mixer redefines what you can do with an affordable 2-channel scratch mixer. With Scratch, you'll be able to create and perform at a higher level than you ever thought was possible—especially with a mixer in the affordable price category. Scratch combines professional-level performance and outright DJing fun in a way nothing else ever has. You've got to experience it to really see what it's all about!
Scratch is really something special—It brings a new look and design to the mixer category. It boasts an all-metal build with professional features such as a built-in Innofader crossfader, performance pads, instant loop encoder, and toggle paddles to trigger software-based effects. To top it off, it comes with Serato DJ Pro and Scratch is Serato DVS ready.
PERFORMANCE PADS
Its soft responsive performance pads give you the freedom to access cues, rolls, and sampler quickly. The pad mode makes it very convenient to set hot cue points, roll temporary loops, and trigger samples at ease.
SOFTWARE FX
Six dedicated software-based FX to apply to individual channel or both using the premium performance base toggle paddles. You can adjust your FX mix from Dry to Wet as you feel the mix.
24-BIT DIGITAL SOUND QUALITY
Play your best with the best! With amazing sound quality thanks to its 24-bit circuitry, the sound is pristine. Your digital song collection never sounded so good, whether you're using Serato DJ Pro or other preferred software. This is also a great mixer to play vinyl records, with a full EQ and a dedicated low/high pass filter.
INNOFADER CROSSFADER
Our butter-smooth Innofader crossfader is designed with the turntablist in mind to perform most intricate and accurate scratches. You have two switches above the crossfader; 1.) reverse the channels and the other 2.) change the slope for a hard cut or a soft curve for mixing.
DVS READY
Easily connect to the Numark Scratch, whether you use traditional turntables or media players. Scratch unlocks Serato DVS for Serato DJ Pro instantly.
INSTANT LOOP ENCODER
Looping made easy. Keep the beat going by pressing the encoder down, and it will lop to the default parameters set in your software. Turn the knob to the right to extend the beat and to the left to shorten the loop.
CONNECTIVITY
Scratch has all the necessities with premium features for any setup. There is an XLR main output and unbalanced booth output for the best booth/dance floor experience. There are unbalanced inputs for both line and phono inputs for each channel. A microphone/auxiliary input for XLR or ¼-inch TS controlled by the mic level knob on the mixer gives you all the versatility you could ask for.
The Numark Scratch comes with a bundle of offers when registering their Scratch on Numark.com. DJs will receive a 2-month trial period of SoundSwitch premium DJ lighting software.
The Numark Scratch was built from the ground up by DJs for DJs!
FEATURES
Serato DJ Pro with DVS License Included Ready to Connect Timecoded Records or Deck Controllers*
Innofader Scratch Crossfader with Reverse and Slope Control
6 Quick Launch Effect Triggers with Dual Paddles and Dry/Wet FX Control
4 Performance Pads Per Deck to Access Cues, Rolls and Samples
Filter Knobs to Create Audio Sweeps
Dedicated Instant Looping Knobs
Combo Mic Input (XLR/¼-inch) with Tone Control
Dual Headphone Output Cueing System (¼-inch/1/8-inch)
24-bit Digital Sound Quality
*Serato Control Vinyl/CD available separate

PIONEER DJM-750 MK2 4-CHANNEL DJ MIXER
Price: £1069
Pioneer DJM-750 MK2 4-Channel DJ Mixer takes a step to the DJ booth seamlessly, a 4-channel mixer which inherits key features and design elements from the DJM-900NXS2, creating a club-style setup when combined with our professional CDJ or XDJ multi players.
You can perform seamless mixes on the DJM-750MK2 thanks to the smooth curves on the EQs and channel faders. The Magvel crossfader, inherited from the DJM-900NXS2, gives a precise response and assured feel during even the most complicated scratch techniques.
PRO FX WITH DETAILED CONTROL
Add texture and flair to your mixes with professional FX inherited from the DJM-900NXS2. 2 effects units combine Sound Color FX and Beat FX – including FX Frequency – giving you the freedom to be creative with sound while always in control.
INDEPENDENT SEND/RETURN
Choose from Aux or Insert send/return to connect different types of FX units on iOS devices such as FX apps, synthesisers and samplers, and combine them with the mixer's internal FX. A simple USB connection will ensure high-quality sound, which you can efficiently record and easily archive via the DJM-REC app on your iPhone or iPad.
PROFESSIONAL SOUND QUALITY
Whether you're playing with digital or analogue sources, high-quality sound is created by the 64-bit digital signal processor, dithering technology, 32-bit A/D converter and 32-bit D/A converter.
SMOOTH EQS & FADERS
The EQs and channel faders on the DJM-750MK2 feature curves equivalent to those on the DJM-900NXS2, which also inspired the Magvel cross fader. The latter is smooth, accurate and durable for more than 10 million movements and its cut lag has been improved for more assured and responsive performance
REKORDBOX DJ BUNDLED
You get a rekordbox dj licence key bundled with this controller. Simply activate your licence key for our DJ software, connect the controller and start DJing.
REKORDBOX DVS BUNDLED
You also get a licence key for rekordbox dvs included in the box for low-latency scratching with CDJs and XDJs. Or play and scratch with tracks from your rekordbox library using analogue turntables and the Control Vinyl (sold separately).
FEATURES
4 channel mixer
Magvel crossfader
Smooth seamless EQ's
Sound color FX
Beat FX
FX Frequency control
Independant send and return
iOS connection
32 bit A/D and D/A converters
64 bit digital signal processors
XLR terminal: High-quality audio output
Two headphone outputs: ¼" stereo jack and 3.5-mm mini jack
Signal GND terminal: Easily attach ground wires from analogue turntables
Gold-plated RCAs: Premium sound quality on all connections
Independent Mic section

PIONEER DJM-V10 6-CHANNEL PROFESSIONAL DJ MIXER
Price: £2799
ELITE SOUND QUALITY
The DJM-V10 provides studio-quality, 64-bit mixing and dithering processing. This is achieved alongside 32-bit high-quality A/D and D/A converters and a low-jitter clock circuit. The result of this is high quality audio, even at high volume with a full low-end, vibrant mids and precise highs.
SIX CHANNELS
The six channels provide a range of connectivity options, allowing you to utilise everything from CDJs and turntables to samplers, synths, and drum machines. Set up is made easy thanks to the vast range of analog inputs that directly line up with the assigned channels.
USB/MIDI TERMINAL
Thanks to the 96kHz/24-bit sound card, it's easy to input and output up to six stereo channels without compromising the sound quality when connected to Mac/PC. The input of the send and master signals, as well as the input and output of individual channels, can be routed via USB to your computer. To ensure smooth handovers between sets, two laptops can be connected simultaneously.
MULTI I/O TERMINAL
A USB A terminal and a 1/4-inch TS jack are mounted on the top and the rear of the mixer. These can be used to connect to sounds arranged using the RMX-1000 app for iPad or other FX apps. These can also be used to record sets without deterioration in sound quality. It is also possible to route insert-type hardware effect units through the 1/4-inch TS jack connection.
FOUR BAND EQ AND COMPRESSOR
The DJM-V10 offers a newly designed 4-band EQ and built in compressor to apply further sonic adjustments to the audio signal. The four band EQ provides ultra-control over the input signal. Completely isolate the high and/or low and tweak the two mid ranges, which have their own custom curves, to fine tune your mix.
Each channel features an independent compressor knob. This can be used to match old and new tracks with varying degrees of compression for mixing purposes. This can be further affected using the newly developed channel fader allowing for precise level control.
DEDICATED SEND AND FILTER SECTIONS
The send section of the DJM-V10 allows you to send audio to one of four built-in FX and up to two pieces of external equipment. Connect guitar pedals, FX units, and more to the TS jack send/return terminals to create unique sounds and remixes.
The filter section can be used for subtly tweaking audio or to completely alter the sound of a track. Select between high and low pass filters and turn the resonance control knob to alter the cutoff frequency.
BEAT FX
A touch display is provided to control the effects section, allowing for intuitive effects manipulation. These can then be applied to the desired channel via the BEAT FX Assign button on each channel strip. A new Shimmer effects has been added to the DJM-V10, a Beat FX that adds brightness to audio.
Features
Elite sound quality
Features the most advanced sound chip set Pioneer DJ have ever used
6 channels
4-band EQ
New filter with dedicated knob on each channel
Send/return FX section
3-band master isolator
Compressor knob for each channel
Dual headphones output and booth EQ
Support for external devices, apps, and services
DIN MIDI out