FREE PARKING
What is techformusic?
Expanding on our hugely successful Northampton Showroom, Fabtronic proudly present our online store "techformusic".
The Northampton based Sales team operates from our in house demonstration showroom which is within driving distance from Aylesbury, Bedford, Birmingham, Buckingham, Cambridge, Chipping Norton, Corby, Coventry, Kettering, Leicester, Luton, Milton Keynes, Nottingham, Oxford, Peterborough, Rugby, Warwick, Watford, Wellingborough.
What does techformusic offer?
Choose from our range of carefully selected items for purchase. Combine the expertise and reassurance of our Superstore with the 24/7 convenience of Internet Shopping. Our experienced sales team can offer knowledgeable advice and service on our range of products from leading brands such as Pioneer DJ, ADJ, RCF, Chauvet DJ and many more.
Our Demonstration Auditorium based in Moulton Park, Northampton is the perfect space to view all the latest DJ Gear on the market including light effects, PA Systems & DJ Controllers plus much more. We also hold our own special events in store together with all the leading brands to showcase to you the latest equipment available. If you don't see what you require please contact us.
Want to know more about us?
So get yourselves signed up to receive our email newsletters and like our social media pages to be kept up to date with all the latest new and exciting products coming out. We hope to welcome you soon…
Need some advice?
If you need some technical advice on sound, lighting or DJ Gear etc why not check out or FAQ pages? We have put together some really useful information and answers to most commonly asked questions. If you don't find the answer you are looking for then please do not hesitate to contact us by phone, e-mail, LiveChat or pop in and see us.
Meet Some Of The Team
Ian Watson (aka DJ Wozzy)

So what can we say about Ian?
Ian is a dynamic, enthusiastic & customer service driven kind of guy. Every day is a positive pants day apart from on the weekend when he puts his cheeky pants on. With his experience of having one of his hands on a jog wheel and the other on a line fader added by a telephone stuck to his ear, Ian makes a great multitasker and not a bad DJ either. His favourite saying when it comes to sound systems is "A heavy bass line is my kind of silence"… He is a DMX lighting guru & likes to think he can light up anyone's life. Ian knows where to put his male connection when playing with cables. He thinks of himself as a bit of a sex god when it comes to knowing which end goes into which socket. We value Ian's OCD where customer service is concerned as we know he will look after you as best he can.
Ryan Leivers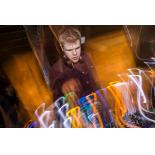 'Ryan Leivers is Live Now'! We all ask Ryan, when are you "not" doing a live DJ stream?
Ryan is part of the team here at techformusic as a sales consultant and most importantly, he is the executive biscuit supplier for the rest of the crew! He also enjoys making video content for our
YouTube channel
on our products.
Away from work, he volunteers for a local community radio station and presents a weekly radio show. He also DJs in local bars and pubs in Northampton. In addition to this, Ryan is taking a step into producing music. He is also a proud, avid supporter of Northampton Town FC.
techformusic About Us – www.techformusic.co.uk
Take a 360 Degree Virtual Tour of Our Showroom
*Images captured December 2019*

Location
Unit 3A, Summerhouse Place Summerhouse Road
Moulton Park, Northampton, NN3 6GL
(If you are using Satellite Navigation please use the following postcode
NN3 6WD)
Visit Us
Open Hours
Monday, Tuesday & Wednesday:
9am to 5pm
Thursday & Friday: 9am to 5:30pm
Saturday: 10am to 4pm
Sunday: Closed
Phone
+44 (0) 1604 641 100
Our Brands
We want the best for you
Trustpilot Reviews
See what our customers have to say...
Great customer service, expert advice and amazing showroom to demonstrate all the equipment.
Fabulous service from techformusic again. Thank you Ian for all your help and advice choosing new speakers. I'm really pleased with them. Perfect.

Great place for advice and range of products

Customer service at its best! Great to talk face to face with real experts and support local businesses. These guys have helped me and they're very competitive on price, but Id be happy to pay more for the service! Head down and see them, also open on a Saturday 👍

Helpful team, had the answers to my questions. Visited on a Saturday, plenty of parking. Excellent setups on display, and no quibbles when I got hands-on with a Pioneer DJM-A9. Cheapest package offers available in the UK. Highly recommend a visit.